Naya Rivera
was best known for her scene-stealing role on the Fox series "
Glee
" as
Santana Lopez
, a cheerleader and glee club member.
The 33-year-old was first reported missing on July 8th after a boat she rented with her four-year-old son,
Josey Dorsey
, who was found drifting on Lake Piru.
Earlier on Monday, the Ventura County Sheriff,
Captain Eric Buschow
announced that a body had been pulled from the water. Police have confirmed that the body pulled from Lake Piru on Monday is that of Glee actress Naya Rivera after a six-day search. She went missing on Wednesday afternoon during a boat day with her four-year-old son Josey.
Captain Buschow has now confirmed that it was Rivera's and that the family had been informed, saying;
"
This is an area we have been searching very hard. I do not know what the depth is, where she was found, I will have to get more details. We had boat crews out on the lake at first light this morning. This hits home for everybody involved. We are in the business of saving people. It is hard for everybody involved
".
He also said, "
Finding out she is missing and then this day to day, the wait and not knowing, hopefully this provides some level of closure
".
"Glee" casts, Hollywood stars and those closest to Naya stood at Lake Piru to remember her.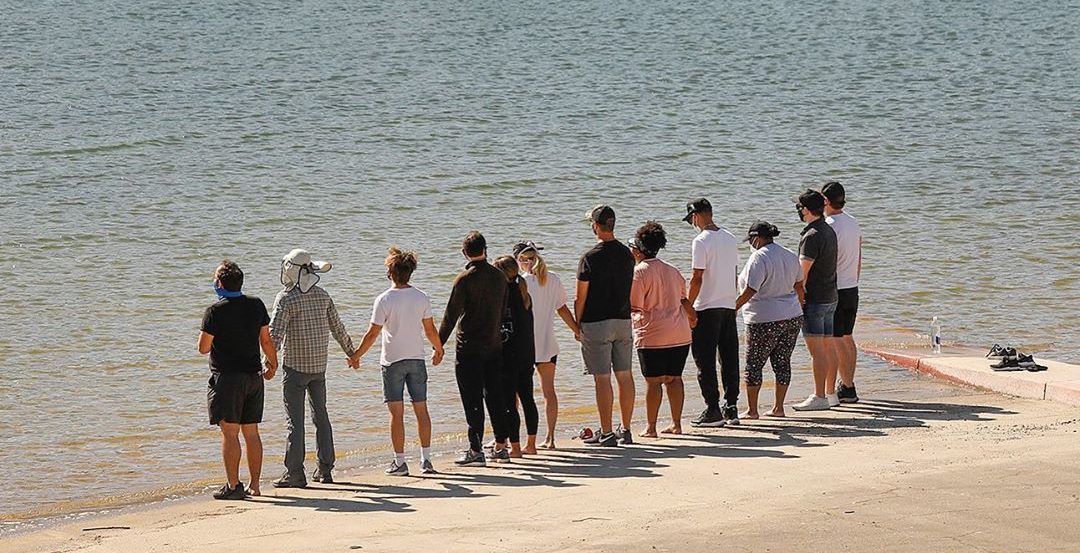 Chris Colfer
, who played
Kurt Hummel
in the teen comedy, shared a photo of himself with Rivera on Instagram with caption;
How can you convey all your love and respect for someone in one post? How can you summarize a decade of friendship and laughter with words alone? If you were friends with Naya Rivera, you simply can't. Her brilliance and humor were unmatched. Her beauty and talent were otherworldly. She spoke truth to power with poise and fearlessness. She could turn a bad day into a great day with a single remark. She inspired and uplifted people without even trying. Being close to her was both a badge of honor and a suit of armor. Naya was truly one of a kind, and she always will be.
💔
Sending all my love to her wonderful family and her beautiful son.
READ ALSO!
Hushpuppi Denied Bail Despite Been Defended By Most Expensive Lawyer, Gal Pissetky
Darren Criss, who played Blaine Anderson, remembered the star's generosity. He wrote:

"She was bold. She was outrageous. She was a LOT of fun. Naya made me laugh like no one else on that set. I always said it while we were working together and I've maintained it ever since. Her playful, wicked sense of humor never ceased to bring a smile to my face.

She played by her own rules and was in a class of her own. She had a brashness about her that I couldn't help but be enchanted by. I also always loved her voice, and savored every chance I got to hear her sing. I think she had more talent than we would have ever been able to see.

I was constantly moved by the degree to which she took care of her family, and how she looked out for her friends. She showed up for me on numerous occasions where she didn't have to, and I was always so grateful for her friendship then, as I certainly am now.

And even as I sit here, struggling to comprehend, gutted beyond description- the very thought of her cracks me up and still brings a smile to my face. That was Naya's gift. And it's a gift that will never go away. Rest in peace you wild, hilarious, beautiful angel".
She played by her own rules and was in a class of her own. She had a brashness about her that I couldn't help but be enchanted by. I also always loved her voice, and savored every chance I got to hear her sing. I think she had more talent than we would have ever been able to see.
Kevin McHale known for his role as Artie Abrams wrote on Twitter:

"My Naya, my Snixxx, my Bee. I legitimately can not imagine this world without you.

7 years ago today, she and I were together in London when we found out about Cory. We were so far away, but I was so thankful that we had each other. A week ago today we were talking about running away to Hawaii. This doesn't make sense. And I know it probably never will.

She was so independent and strong and the idea of her not being here is something I cannot comprehend. She was the single most quick-witted person I've ever met, with a steel-trap memory that could recall the most forgettable conversations from a decade ago verbatim.

The amount of times she would memorize all of those crazy monologues on Glee the morning of & would never mess up during the scene… I mean, she was clearly more talented than the rest of us. She was the most talented person I've ever known & I'm furious we won't get to see more.

I'm thankful for all the ways in which she made me a better person. She taught me how to advocate for myself and to speak up for the things and people that were important to me, always. I'm thankful for the times I grew an ab muscle from laughing so hard at something she said.I'm thankful she became like family. I'm thankful that my dad happened to have met her years before I did and when I got Glee, he told me to "look out for a girl named Naya because she seemed nice." Well dad, she was nice and she became one of my favorite people ever.

If you were fortunate enough to have known her, you'll know that her most natural talent of all was being a mother. The way that she loved her boy, it was truly Naya at her most peaceful. I'm thankful that Naya got that beautiful little boy got back on that boat.

I'm thankful he will have a strong family around him to protect him and tell him about his incredible mom. I just hope more than anything that her family is given the space and time to come to terms with this.

For having such tiny body, Naya had such a gigantic presence, a void that will now be felt by all of us – those of us who knew her personally and the millions of you who loved her through your TVs. I love you, Bee."